Welcome to Xssport+
Keep up with the latest sports news.
Home



Welcome to my website.

This web site provides sports services. By offering sports news different types. Both domestic and international. This is a source of interesting sports activities. You can follow and update the information you are interested in before 24 hours.




Blog

'We've got more than enough to cause them problems' - Cautious All Whites quietly confident

The All Whites are taking no chances as they prepare for their crucial World Cup qualifier against Peru in Wellington. Since the team began arriving in the capital three days ago, trainings have been held well away from prying eyes as the Kiwis complete their fine-tuning for the home-and-away series.

However, All Whites and Ipswich Town defender Tommy Smith says that doesn't necessarily mean there'll be too many surprises at Westpac Stadium on Saturday.

"There's no two ways about it - we've got more than enough to cause them problems, but we want to keep those cards close to our chest," he said.

New Zealand won't be veering too far away from the structure and tactics they displayed at the Confederations Cup in June, where they were beaten 2-0 by Russia, 2-1 by Mexico and 4-0 by Portugal.

The 122nd-ranked All Whites will be looking for the elusive balance of solid defence and well-timed attack which might allow them to sneak an unlikely result.
"I don't think you can dictate before the game's started when and where you're going to press, defend or attack," Smith said.

"As players and a group, you've got to pick your moment when to capitalise on those opportunities. "It's a hard one to put your finger on before the event's actually started."

Smith said the All Whites' chances had been boosted by the unaccustomed luxury of having a squad which included Burnley striker Chris Wood and skipper Winston Reid. "It's great to have a full-strength squad, which we haven't had for a long time. We're quietly confident that we can go and cause an upset," he said.

Although it's been some time since he played alongside Reid, Smith says there've been no problems with the West Ham defender slotting sweetly into the back four."A player as good as Winston is always going to slide straight back in - we know how good he is and how strong he is for us."

Smith said All Whites coach Anthony Hudson had been meticulous in his preparation for the matches against world No.10 Peru, and having Reid back in the line-up had provided an extra confidence boost."We've been well-versed in how they're going to play and how we're going to combat their strengths and exploit their weaknesses," he said. With Winston in the back line, it gives us a lot more strength we haven't had in previous squads."


Pompey latest: Pearce interested in West Ham return

Stuart Pearce has admitted he'd be interested in joining David Moyes' coaching set-up at West Ham. The former England defender has been a regular at the Blues' Hilsea training ground in recent weeks.

A friend of manager Kenny Jackett, he has been helping to coach Pompey's defensive players and was in attendance yesterday as the team prepares for tonight's Checkatrade Trophy game at Charlton. Moyes was named as Hammers manager this morning following the sacking of Slaven Bilic.

The Scot is expected to name his backroom staff in the coming days, with Pearce linked with a move back to a club where he made 45 appearances. In an interview with Talksport yesterday, Pearce said he would be keen to talk to the club if the chance arose.

'I've had no contact with West Ham,' he said. 'But if I had contact with them I would certainly go and talk to them. 'I really enjoy doing the media work, but then again I enjoy coaching – I've been at a club today coaching.' (For more information about


Rafa Benitez insists he is relaxed about Newcastle United's current run of form in the

Premier League because he knew this season would throw up some difficult moments. The Spaniard, though, knows that things will get easier for the Magpies in the coming months as his team adjust to life back in the top-flight and the club look forward to an increased transfer kitty and wage budget from May onwards.


United chief Benitez has been given assurances that there will be money to spend in January too - regardless of whether there is a takeover at St James' Park or not.

Benitez stated last week he wanted fans to stay calm in the weeks ahead and believes that Newcastle will soon be competing with other top-flight clubs when it comes to improving his squad.

He told the Chronicle: "After some months this team will be stronger because they continue to work very hard.

"Then we will stay in the Premier League, we'll get money from the TV and we can compete against teams we couldn't this year because of wages and transfers."

Benitez admitted that newly promoted Newcastle had to cut their cloth accordingly last summer.

He said: "You can talk about players at Bournemouth or Burnley that we couldn't sign because we couldn't afford the fee or their wages.

"We're now in a really good position. We have to enjoy it and stay calm and support the team. We're not at the bottom of the table. It could be worse and could be better but we must stay calm."

Recent games against Burnley and Bournemouth have resulted in narrow Premier League defeats and he spoke about the complexities of life back in the big time compared to the Sky Bet Championship last term.

The former Real Madrid and Liverpool boss explained: "Can you guarantee we'll score goals? No, you can't because other teams set themselves up to defend."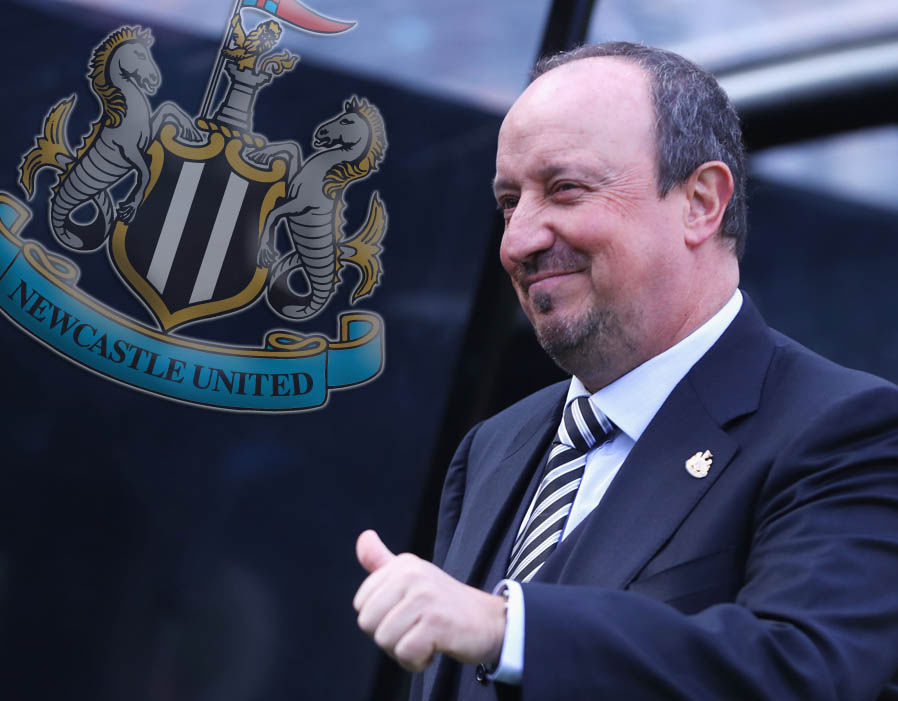 Defensive trio crucial to City's success

With Manchester City scoring at will and playing some bewitching attacking football, it has been easy to overlook the contribution made by their three most defensive outfield players.

Fernandinho, John Stones and Nicolas Otamendi are never likely to hog the headlines in a team that has plundered 52 goals in all competitions and features flamboyant playmakers Kevin De Bruyne and David Silva behind deadly finishers such as Sergio Aguero and Gabriel Jesus.

Yet statistics suggest they hold a valid claim to being the three most important players in Pep Guardiola's squad, following an unbeaten start to the season that has left City eight points clear at the top of the Premier League.

Their record of conceding just 11 goals in 17 matches in all competitions this season is impressive enough on its own, yet the argument gathers pace when you consider their contributions to City's domination of possession and attacks.

Argentine centre back Otamendi, for example, has had more touches in the Premier League and Champions League combined than any other City player this season, with England centre back Stones second and Brazil midfielder Fernandinho fourth behind De Bruyne. It is a similar story with passing. Otamendi is once again at the top of the charts for passes attempted, ahead of Fernandinho in second place with Stones in third.

While for pass completion, Stones leads the way for City ahead of Otamendi in second place and Fernandinho in fourth – all three of them currently registering above 90 percent. In fact, Stones's rate of 96.6 percent is bettered in European leagues only by the 96.7 percent completed so far by Paris St Germain's Thiago Silva.

It is not out of the ordinary for a holding midfielder such as Fernandinho to sit near the top of a team's touch and passing charts – Nemanja Matic has dominated both for Manchester United this season. Yet the figures for Otamendi and Stones are more unique.

It suggests that all three are the glue binding this most exhilarating of attacking forces together and the bedrock of the goals being bagged by Aguero and the like. Not that they haven't been scoring themselves. Stones and Otamendi have netted three times apiece this season while Fernandinho has scored twice.

Needless to say, Guardiola has been the first to recognise the trio's significance. "I think Fernandinho right now is one of the three best holding midfielders in the world," he said ahead of Sunday's 3-1 win over Arsenal. "Just as with John (Stones) and Nico (Otamendi), Fernandinho has achieved another level, with his positivity and his mentality. He gives us a lot, with the ball and without the ball." That contribution could end up being the key to any success City go on to enjoy this season. (Watch other couples matchback through Sbobet link.)







Michael Laudrup was leading contender for Barcelona manager job, agent claims

Michael Laudrup was a leading contender for the Barcelona job last summer, according to his agent.

Bayram Tutumlu says the Dane was in fact Barca president Josep Maria Bartomeu's preferred choice to replace Luis Enrique, ahead of Ernesto Valverde and current Celta Vigo manager Juan Carlos Unzue.

"In May, my adviser Evren Sahin and I invited the owner of Brondby, Jan Bech Andersen, to visit my good friend Josep Maria Bartomeu in Barcelona," Tutumlu told Danish media (h/t Marca).

"Bartomeu told me that Laudrup was one of his favorites to replace Luis Enrique.

"But the club finally chose Ernesto Valverde."

Laudrup, the former Barcelona midfielder who also played for Real Madrid, also had offers to return to Europe last summer, Tutumlu revealed. The 53-year-old former Swansea manager has also previously been approached by Atletico Madrid and PSG.

He's currently managing Al-Rayyan in Qatar, with his contract up at the end of the season.

"I have received calls from Germany, Spain, France, Italy and England," Tutumlu claimed. "It depends on him and where he wants to be a coach in Europe again."